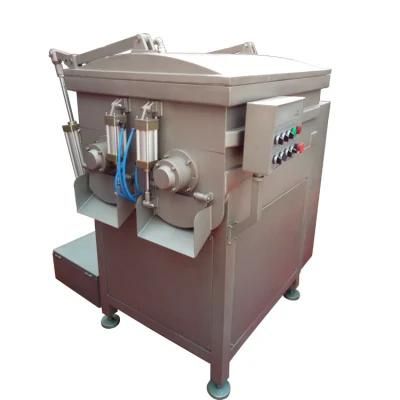 High Efficiency Meat Vacuum Mixing Equipment
Shanghai Genyond Technology Co., Ltd.
Power Source:Electric
Process:Mixing
Automatic Grade:Automatic
Type:Vacuum Tumbler
Voltage:380V
Customized:Customized
Model NO.:jb
Transport Package:Wood
Specification:0.6
Trademark:genyond
Origin:China
Production Capacity:50000
Basic Info.
Model NO. jb Transport Package Wood Specification 0.6 Trademark genyond Origin China Production Capacity 50000
Product Description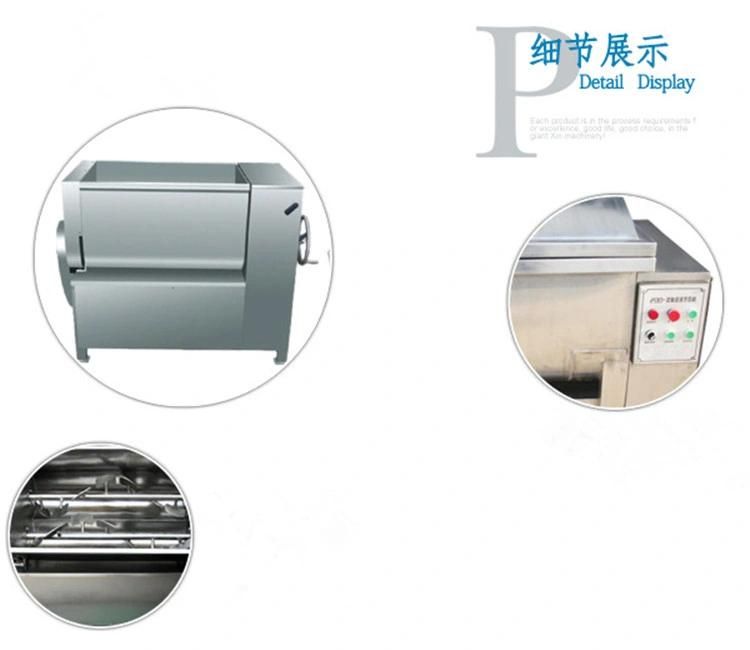 Regular mixing machine
Bri
e
f introduction:
The mixing machine is a common mixing device in the processing of sausage products in the meat industry. Its purpose is to stir all kinds of non-standard granular raw meat and other auxiliary materials according to the process requirements, so that the raw materials can be fully mixed to meet the needs of different meat products. It is a common equipment used to mix and match various fillings, seasonings and accessories. It has high efficiency, easy operation, increased mouthfeel, and makes the fillings smooth and delicious. It is a kind of sausage products, granular and muddy mixed sausage products and pellet products. The preferred equipment, but also the necessary equipment for the filling of stuffing dumplings and glutinous pasta products.
Model
:
Model

V

olume

L

P

ower

kw

C

apacity

kg

S

peed




r/min

D

imension

mm

Weight kg

JB50

50

0.75

20

75/67

740×810×775

180

JB100

100

1.75

60

84/42

1200×682×1060

240

JB150

150

2.2

120

84/42

1280×720×1100

290

JB200

200

3.7

160

84/42

1350×820×1350

400

JB300

300

4.4

240

84/42

1480×925×1500

600

JB650

650

6

500

84/42

1600×1100×1400

730

JB1200

1200

11

900

84/42

1930×1490×1700

900
Features:
1. High efficiency, fast mixing speed, automatic discharging, lower labor intensity, simple operation and convenient.
2. The unique arrangement of the teeth, the impeller cross type, is more suitable for mixing dry materials, so that the material mixing is more uniform, and the amount of single charge is more.
3. The gap between the impeller side and the hopper is 5mm, the mixing is more uniform, and there is no dead angle.
4
. Computer control, various parameters can be set through the man-machine interface, automatic operation, automatic discharge (pneumatic opening).
can make vacuum mixing machine: vacuum mixing, meat without bubbles.

using double-axis multi-blade structure, stirring quickly and evenly.

Multi-layer sealing structure is adopted in the bearing seat at both ends of each mixing shaft to prevent vacuum leakage, meat spillage and lubricating oil infiltration.
Mixing machine safety operation procedures
(1) Check if the wiring is loose before starting the machine.
(2) Operate in strict accordance with the operating procedures.
(3) When the mixing machine is in operation, do not put your hand into the trough to avoid danger.
(4) When the machine is working at full capacity and suddenly loses power, or when a fault occurs, it should be
The main power is turned off.
(5) Turn off the power after the machine is used up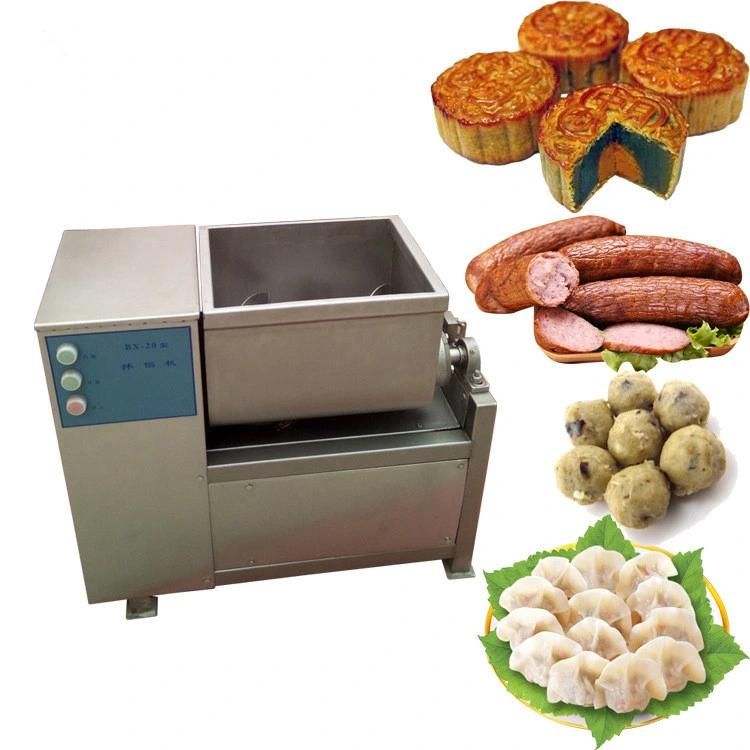 V
acuum mixing machine
The vacuum mixing machine makes the material under negative pressure and expands by the vacuum device while being radially tumbling and axially recirculating by the blade to complete the stirring function; the material is evenly stirred, fully expanded, no bubbles, good elasticity, bright color and maximum The protein is extracted and the degree of vacuum can be arbitrarily set. Suitable for all kinds of process requirements, it is the ideal equipment to change the quality of products.
A
pplic
ation:
Make ingredients such as sausages, pills, fillings, etc.
Model



V

olume

L

P

ower

kw

C

apacity

kg

V

acuum

Mpa

S

peed




r/min

D

imension

mm

W

eight

kg

ZJB340

340

7.35

270

-0.09

84/42

1500×1000×1500

700

ZJB650

650

7.1

500

-0.09

84/42

1600×1300×1600

800

ZJB1200

1200

13.2

900

-0.09

84/42

1985×1975×1915

900
Vacuum mixing machine function configuration:
1. The whole machine is made of high quality stainless steel material, which is reliable and durable, easy to clean, good sealing effect, and adopts backward opening type, which is safe and reliable.
2. The main shaft adopts double bearing structure, which improves the mixing efficiency and mixing effect.
3, positive and negative free control, automatic discharge.
4. The opening and closing of the material box and the switch of the discharge door adopt the cylinder operation, and only need to be toggled to realize all the actions, and the operation is convenient.
5. It adopts the chain transmission of pin-needle cycloid reducer, and the machine runs smoothly and reliably with low noise.
6
.
optional computer programming automation control, can store 99 recipes.
7
.
optional inverter, dual-axis speed 20-100 rev / min arbitrary settings.